Speaking Spells to Orchard Apples
My birthday surprise for you -- a free full issue and a discounted subscription
Welcome to the Witch's Kitchen! It's my birthday today, so I'm giving a gift to subscribers considering upgrading: this bonus free issue and 30% off an annual subscription if you sign up at this link before August 27. That knocks the annual cost down from $50 to just $35 for the first year of your subscription. To have access to everything we post (and allow us to keep paying our spectacular writers), upgrade to a paid subscription now! The first three people to upgrade will get a witchcraft-focused book mailed to you as an extra thank you. For those of you already with a paid annual subscription, your renewal cost will be $35 for your second year—and thank you!!
Hello wonderful witches!
In case I haven't said it quite enough yet (I'm a Leo, you know how it is), it's my birthday today! I hope you'll take advantage of my present to you above. I'm thrilled with and proud of the content Kitchen Witch puts out every week, and I don't want you to miss any of it.
Today, we're dreaming of fall and heading to the apple orchard. Picking apples is one of my favorite early autumn activities. My family and I have been going to Apple Holler in Wisconsin since I was a kid. When we get back to my parents' house, we spread out all our apples on the table, count them, and divide them equally among the family. The last time we went, I think in all we picked about 90 apples. I transformed those into Swedish apple cake, apple cobbler, apple pie, and more.
In this issue, we visit an orchard in Hocking Hills, Ohio. Travel writer Amber Gibson tells the story of an orchard owner there who casts a spell over his crop every year—and what happened the one time he didn't.
---
An Orchard Full of Bewitched Apples
By Amber Gibson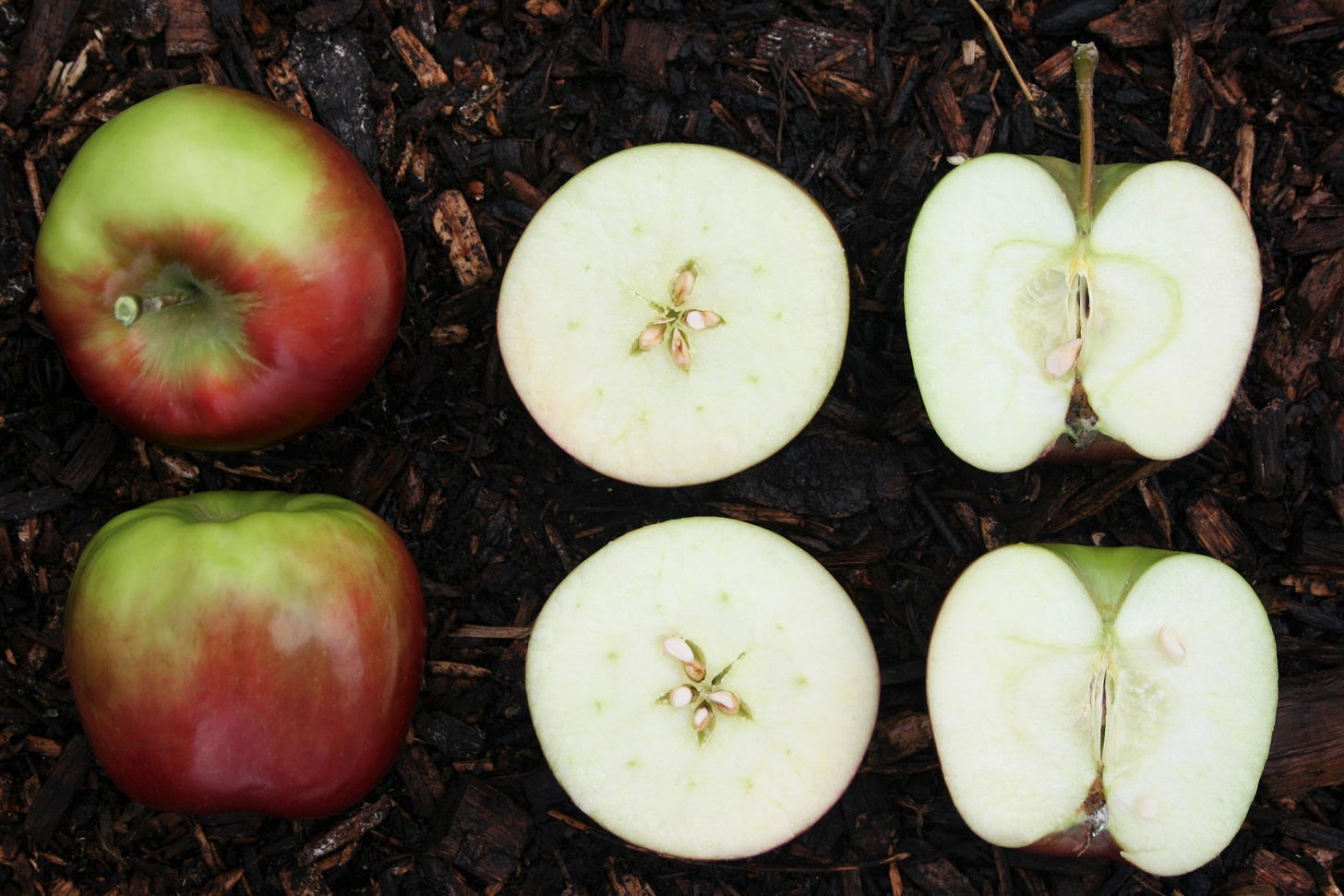 Photo by Phillip Larking on Unsplash.
Derek Mills has 1,600 different apple varieties growing in his backyard in Hocking Hills, Ohio. Apple enthusiasts visit from all across the country to pick these rare heirloom varieties at the peak of ripeness from mid-July through the end of October. In the late 1800s, 2,500 different apple varieties grew across the United States, but today's apple production consists of just a dozen varieties—making Mills' orchard a rarity in the US.
An IT engineer by day and a certified naturalist for the state of Ohio, Mills is the Jane Goodall of apples, celebrating the history and diversity among this most precious fruit. It's hard to believe the variance in color, shape, and size among some of these alien varieties. The Arkansas Black is dark purple, nearly black, with crisp flesh that tastes almost like almonds. There's the Ancient Roman Decio apple and George Washington's favorite Newtown Pippin. The Tompkins County King is one of Mills' favorites, called the "king of apples" for its size and flavor. There are 208 red flesh apple varieties, including the Niedzweckyana, a wild apple hailing from Kazakhstan. Mills even created his own crossbreed, the Ruby Slipper, which is currently awaiting a plant patent.
Mills may be a man of science, but he still follows the old English tradition of Wassailing to assure a healthy crop. On Twelfth Night, he normally goes into his apple orchards, shoots his shotgun, and recites this poem:
Hail to thee, old apple tree!
From every bough
Give us apples enow;
Hatsful, capsful,
Bushel, bushel, sacksful,
And our arms full, too.
He didn't expect the consequences of the time he didn't cast this spell over his apples.
"This year I didn't do it because I forgot, and we had a late frost April 12th that killed about half of the blossoms," he says. Temperatures dropped to 26 degrees Fahrenheit that night. "I was waking up every hour to check." There will still be a crop of apples for hungry visitors to harvest, but not nearly as bountiful as last year. 
Stop by for fall foliage and a treasure hunt for weird and wonderful apples. And don't worry, Mills confirms that he doesn't have any poisonous apples, so you won't fall into a sleeping death like Snow White.
Amber Gibson covers travel, food, wine, and wellness for Travel + Leisure, Conde Nast Traveller, Departures, NBC, Forbes, USA Today, and Artful Living. Follow her adventures 

@amberyv

 on Instagram.
---
Recipe Box
Every now and then, Kitchen Witch will be publishing bonus recipes in this new section, Recipe Box. If you have a great one you want to share, send it along! Today we're enjoying blackberries in a gorgeous crisp.
Mini Blackberry Crisps
by Monica Romano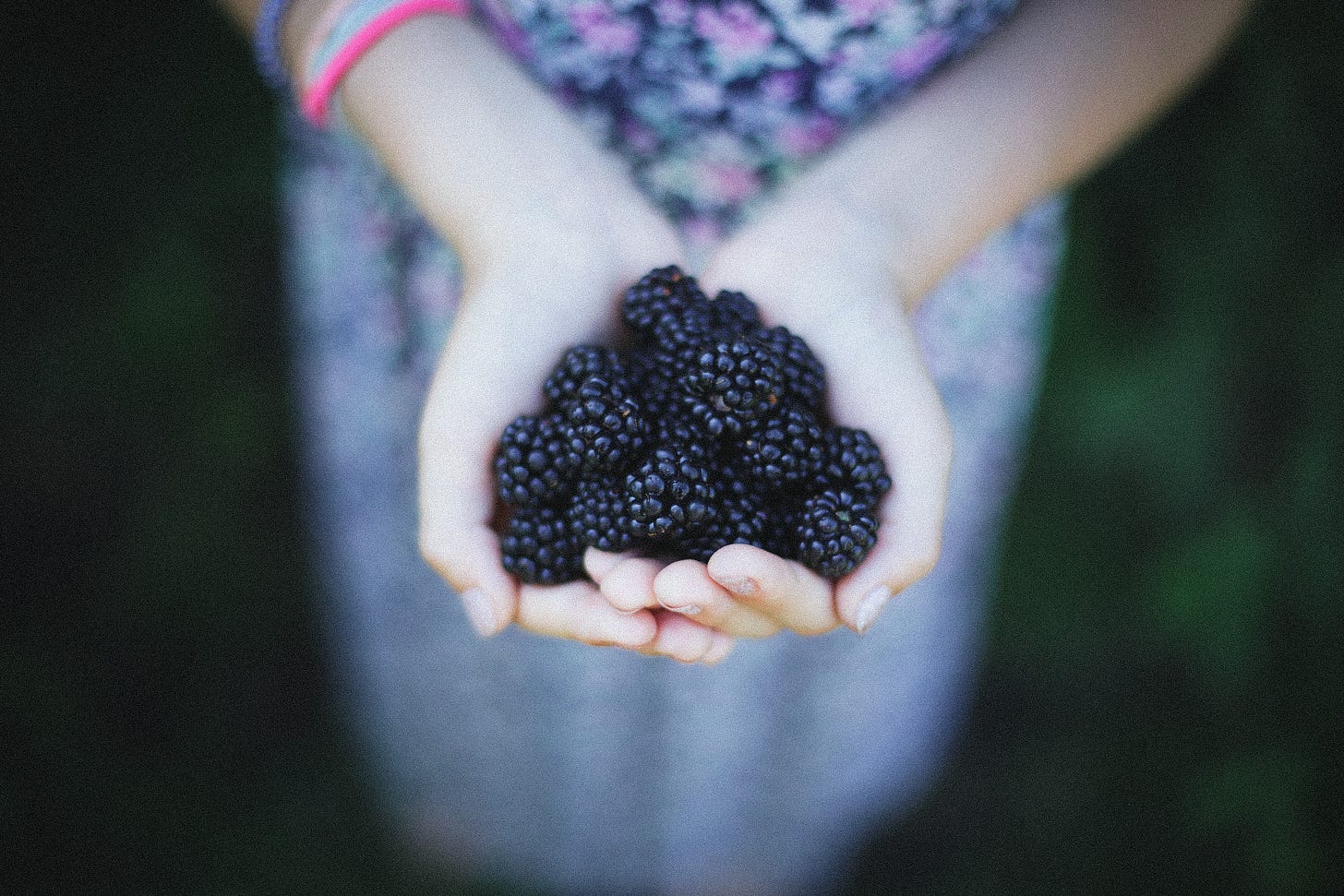 Photo by
Nine Köpfer on Unsplash.
One of my cherished summer rituals is picking wild blackberries that have been charged with the sun's golden energy. Visiting the bramble patch (often with a picnic basket and blanket in tow) is a grounding experience. As I focus on choosing the ripest berries while carefully dodging the thorns, it helps me drown out the world and be present in the moment. Blackberries, packed with antioxidants, are a powerful life force. They possess properties of abundance and prosperity and are meant for sharing.
This recipe makes one large crisp or smaller 8-ounce ones for sharing or freezing. The flaxseed, oats, walnuts, and cinnamon in the topping are a potent mix for restoring the flow of heart energy.
Ingredients:
Crisp:

2 tablespoons granulated sugar

2 tablespoons water

2 teaspoons lemon juice

1 tablespoon cornstarch 

4 cups blackberries

Topping: 

1/2 cup quick oats

1/2 cup flour

1/4 cup brown sugar

1/4 cup chopped walnuts

2 tablespoons ground flaxseed

1/2 teaspoon cinnamon

1/3 cup unsalted butter, cubed

dash ground sea salt (pink Himalayan preferred)
Directions:
Preheat oven to 350 F.

In a small bowl, whisk together sugar, water, lemon juice, and cornstarch. Divide berries between six 8-ounce ramekins and pour the liquid over in equal amounts. Allow the lemon juice to penetrate your senses, clarify your mind and sharpen your focus. 

Combine oats, flour, brown sugar, walnuts, flaxseed, and cinnamon in a medium bowl and mix well. Feel your heart open as any ill will toward others melts away. Allow the sugar to enhance and sweeten all your relationships. 

Cut in the butter. Focus your intentions on releasing any resentments and allowing abundance to flow freely. Sprinkle in the salt and feel its protection.

Place ramekins on a baking sheet and bake for 35 to 45 minutes, until the filling bubbles and the topping is golden brown. Cool slightly, garnish with a mint leaf, and serve with vanilla ice cream.
Monica Romano studied culinary arts in Seattle, WA. She blends the magic of healing foods with holistic healthcare. Follow her

on Twitter

.
---
Have you connected with us on social? We're filling up Instagram and Twitter with Kitchen-Witch-themed posts and shares. Be sure to follow us on both platforms at @kitchenwitchjb!
Coming Up Next Week…
In our next issue, we're going to learn about wormwood's cousin, Artemesia vulgaris—or as we commonly know it, mugwort.
See you then!