The Maiden Moon Dancer
Take a sip of this full-moon-themed cocktail
Welcome to the Witch's Kitchen! This is the monthly free full version of the newsletter. To have access to everything we post (and allow us to keep paying our spectacular writers), upgrade to a paid subscription now! Here's a quick preview of what you're going to miss throughout October: tea and coffee blessings; Samhain and Day of the Dead features; our first poet; and more.
Hello, wonderful witches, and happy Harvest Moon!
For the farmers and green-thumbs among us, I wish you plentiful rewards from the hard work you put in over the summer. Since I accidentally kill every single plant I touch (yes, even cacti and air plants, it's bad), I'm reaping rewards of a different type for the upcoming season: career milestones. We're a month and a day away from the publication of my next book, "Classic Restaurants of Milwaukee," with The History Press. Plus, my colleague-turned-friend and I just officially launched our new business, The Macabre Traveler. It's about all things spooky travel, including articles, trip itineraries, and a podcast. We're dropping the first episode in a couple weeks.
But back to the moon.
We must have done something right, because we get to enjoy two full moons this month, which means extra power for pretty much any ritual or spell you want to do. We'll have a cocktail recipe to celebrate each of them, starting with today's martini-style Maiden Moon Dancer, created by South African mixologist Roxanne Read.
---
Maiden Moon Dancer: A Full Moon Cocktail
By Roxanne Read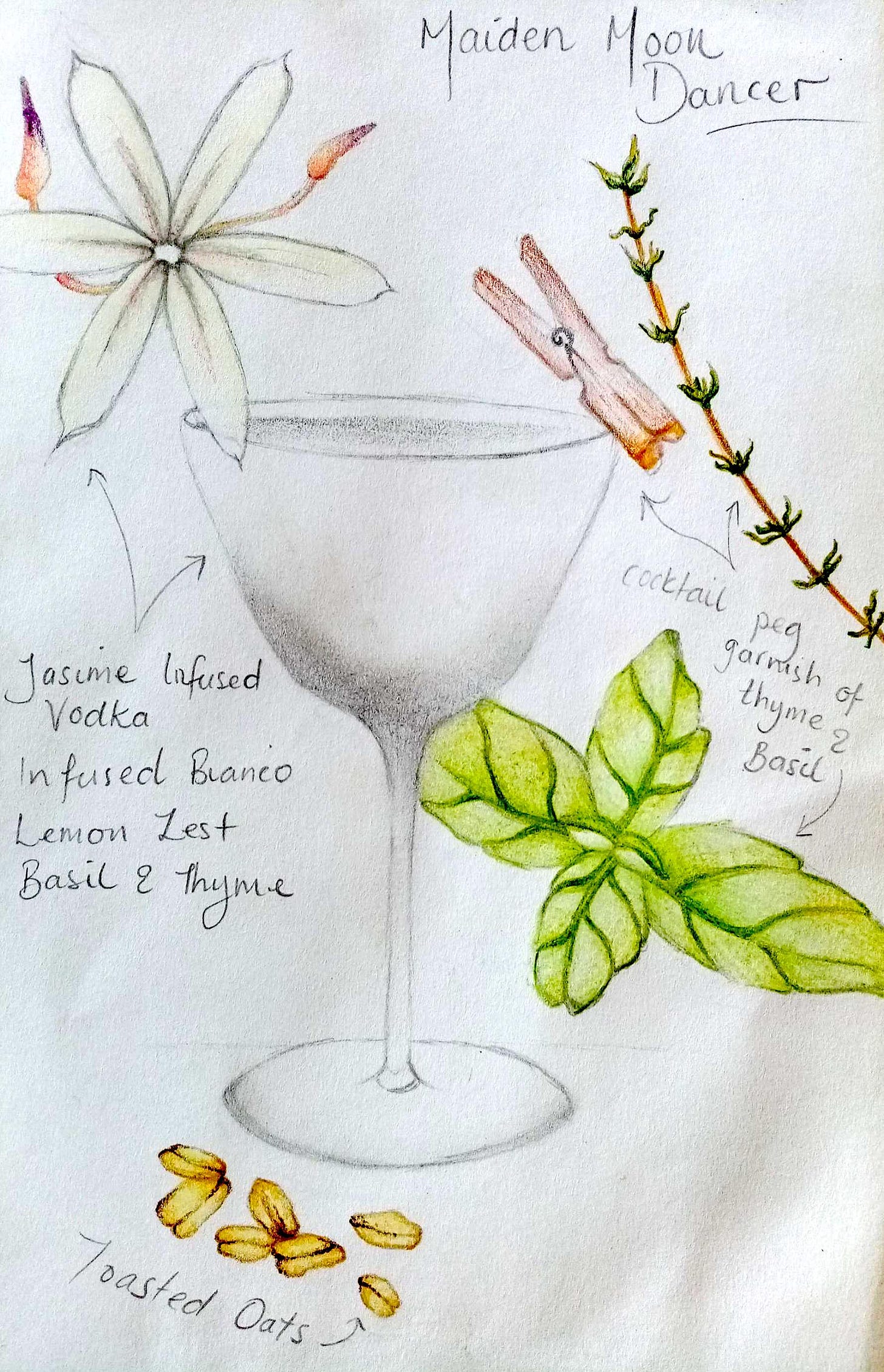 The Maiden Moon Dancer Cocktail. Illustration by Roxanne Read.
Our relationship to magic waxes and wanes along with the moon's phases. The moon represents our inner world—our hidden emotions, desires, shadow-self, fears, and dreams. Its cycles affect our unconscious beliefs and desires. When you're attracting into your life, you work with the waxing moon. When you want to banish or release unwanted elements of your life, you work during the waning phase.
During a full moon, though, the moon and sun fall in harmonic balance on opposites sides of the zodiac. It brings a challenging and intense expression of energy, but also has incredible potential—any spell or ritual you do will be full of extra power. This is the energy of the white goddess and it is undeniably magnetic.
Tonight's full moon is in Aries and is this year's Harvest Moon. Aries brings with it momentum, enthusiasm, and substantial time for action. This is a time of physical and metaphorical harvest as we celebrate what we have manifested over the first half of the moon cycle, identifying and releasing what is no longer needed throughout the second half of the cycle. This is also a time to set new intentions for the next round of manifestation and magical work involving leadership, authority, spiritual conversion, or willpower.
As a token to the celebration upon us, I created a cocktail highlighting the magical moon cycle: the Maiden Moon Dancer. The subtle yet powerful nature of this martini-style cocktail elegantly mirrors the nature of the moon and its rich magical properties. Oats remind us of the time of harvest and abundance. Jasmine, whose ruling planet is the moon, is used to invoke confidence and leadership in magical practice. A blend of basil and lemon thyme represents the courage and strength of the Aries ram. Start this cocktail a few days before you plan to drink it, then enjoy sipping in the power of the moon.
Maiden Moon Dancer
Ingredients:
60ml jasmine-infused vodka (see method below)

30ml toasted-oat-infused Martini Bianco vermouth (see method below)

4 to 6 fresh lemon thyme sprigs

2 to 3 fresh basil leaves

Lemon zest
Method for Jasmine-Infused Vodka: Add 6 to 8 drops of jasmine essence or food-grade essential oil into your favorite brand of potato-based vodka. Next, rinse 1/2 cup fresh jasmine flowers and push them into the vodka bottle. Tighten the lid and allow it to stand on a shelf for a few days to get a concentrated infusion. Once you are happy with the intensity, double strain the flowers out of the vodka.
Method for Toasted-Oat-Infused Martini Bianco Vermouth: Place a single layer of oats on a baking tray in a 300° oven and roast until golden brown. They are perfectly toasted when you can smell hints of hay and butter coming off the oats. Add 3/4 cup toasted oats to your bottle of vermouth and allow to infuse for at least 4 days.
Directions:
Note: With martini-style drinks, you want to move fast. Make sure everything is prepared and readily available before you start pouring to avoid excessive dilution. Prep your martini glass by chilling it in the fridge the night before, and remember to keep smelling your drink as you go. If you can smell all the different ingredients, then you are on the right track to perfect balance.
Place basil into the bottom of a shaker and muddle it hard to release the oils.

Add lemon thyme and softly muddle the herbs together.

Fill shaker halfway with ice cubes. Add the vermouth.

Close shaker and lightly roll the vermouth over the ice.

Open shaker and drain half (or 15ml) of the vermouth out of the drink, then add vodka.

Squeeze lemon zest into the shaker, then drop zest in.

Close the shaker and give it a hard and sharp shake for 20 seconds.

Double strain the drink into your chilled martini glass.

Garnish with a thyme and basil bundle, securely clipped to the outside of the glass with a wooden cocktail peg (a small clothespin). Sprinkle toasted oats to float on top.
Roxanne Read is a South African global mixologist with 14 years of bar experience in all aspects of the industry. Her passion is to create art through the craft of cocktails and take people on a conceptual journey through the theater and flavor experience of these elixirs. She believes this world is a magical place and brews her drinks with touch of magic.
---
Have you connected with us on social? We're filling up Facebook, Instagram, and Twitter with Kitchen-Witch-themed posts and shares. Come join us!
Coming Up Next Week…
Next week, we'll revisit ancestral food traditions through a writer's grandmother and her recipe for stew.
See you then!