Wrapping Up Lavender Season
A lavender farmer's daughter reflects on the fragrant bloom
Hello wonderful witches!
Here in the Midwest, we're heading into the last half of lavender season. Last month, I watched as neighbors streamed past me and my dog on our walks, pulling wagons full of freshly bloomed lavender plants from the nursery down the street. The flowering herb has a special way of both relaxing and inspiring me—whether it's from a soft-glowing candle in my office during the day or my own lavender simple syrup that I make for London Fogs. (Comment if you want the recipe; it's super easy.) I'll be sad to see it fall out of season, so this week we're going to celebrate it!
Today, writer Sylvie Baggett takes us back to her childhood, growing up and learning magic on a lavender farm. We're also showcasing artwork from Seattle-based artist Stasia Brewczynski, who features marginalized genders and craft brewing in her pieces.
Note to our free subscribers: This is the last full version of the newsletter you'll receive this month! To have access to everything we post (and allow us to keep paying our spectacular writers), sign up for a paid subscription. Here's a quick preview of what you're going to miss throughout July: the lore of golden apples, a triquetra bread recipe for Lammas, appeasing house spirits, and more!
---
Lavender Spells in the Birdbath
by Sylvie Baggett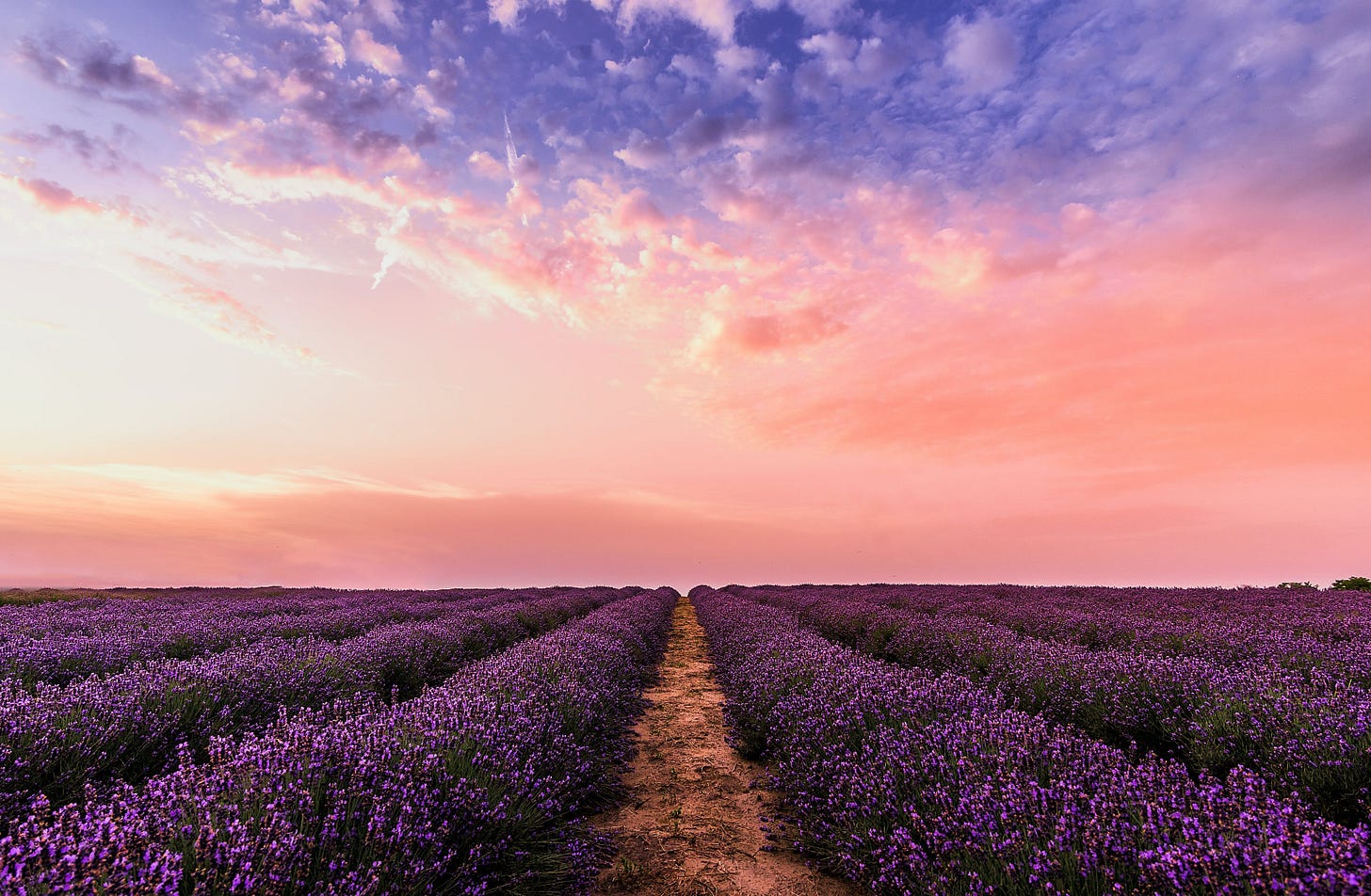 The first harbinger of summer arrives well before the solstice, fragrant and fringed with purple. Toward the end of May, lavender begins to reveal its flowers, blossoming well into July to the delight of honeybees, painted lady butterflies, and witches alike. As a child, I would pluck a few stems from our family's lavender field and incorporate them into "potions" I mixed in the birdbath, inventing spells as I stirred the mixture with a wooden spoon stolen from the kitchen.
Lavender is one of the most commonly used plants, not only in witchcraft but also in day-to-day life. From protective smudge sticks to incorporating its alluring scent into love spells, lavender finds its home in a host of magical charms—as well as bath bombs, essential oil diffusers, and hand soap. The abundance of the plant makes it easy to utilize lavender's calming and protective properties within recipes, too.
One of my favorite ways to use lavender in the kitchen is making lavender lemonade, a drink infused with the power to draw in love, peace, and joy. The tartness of the lemon contrasts perfectly with the earthiness of the lavender and is especially refreshing during the summertime. Simply fill a tea ball with culinary lavender and place it in a quart of water. Bring to a boil, then let cool and steep until the water resembles tea. Use this as your base as you combine with either lemonade mix (my preferred method!) or freshly squeezed lemons, adding water to taste. Stir together while stating your intention for a delicious and magical potion. Place in the fridge until fully cooled and enjoy—you can even make extra-refreshing popsicles from the lavender lemonade.
For backyard barbecues, consider using lavender stems as skewers on the grill. Simply take a long stem, fresh or dried, and pierce your shrimp, bell pepper, or anything else your heart desires, and roast. The smoked lavender will infuse itself within the food of choice for a delightfully complex flavor, as well as enchanting it with purifying properties.
Grinding your own seasoning is a no-nonsense way to take advantage of not only lavender's magical qualities but those of other herbs as well. I combine dried thyme, rosemary, basil, sage, oregano, and, of course, lavender with my mortar and pestle and sprinkle the mixture on just about everything.
Though I've graduated from birdbath concoctions, imbuing classic recipes with lavender magic is a fragrant reminder of childhood summers and budding witchcraft, no matter the season.
Sylvie Baggett is a lavender farmer's daughter and sour candy connoisseur who never quite grew into her hair. You can find her on Instagram at @

sylvie_baggett

.
---
For the Witchy Brewers Among Us…
Fan of both beer and witchcraft? Check out this illustration from Stasia Brewczynski—and if you like it, head over to her Redbubble shop to get it on some swag! Don't forget to follow her, too; she's @stasiabrew on Twitter and Instagram.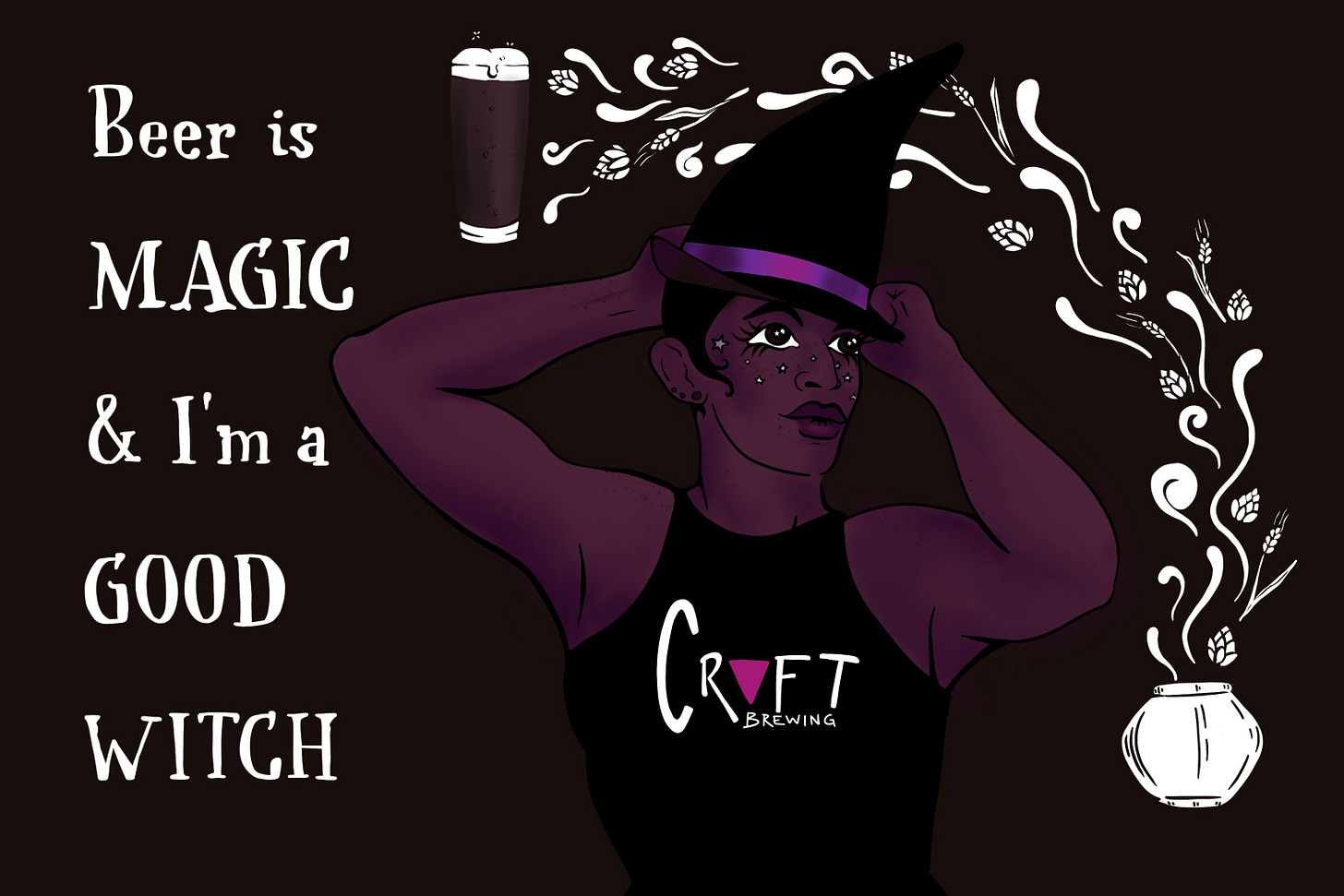 Stasia Brewczynski is a Seattle-based artist. Her experience as a woman in the male-dominated beer industry inspires much of her art, which often depicts folks of marginalized genders enjoying craft beer. 

Beer is Magic & I'm a Good Witch

 features a black brewer tilting a witch's hat. The brewer has star freckles, full lips, and is beside a magic cauldron from which hops and barley escape. A perfect pint of dark beer is the result. The brewer's shirt reads "Craft Brewing" and the "a" in "Craft" is a pink triangle. The caption reads, "Beer is MAGIC & I'm a GOOD WITCH."
---
Need Advice?
Kitchen Witch is launching an advice column! If you have any food- or witchcraft-related questions, send them my way at kitchenwitchjen@gmail.com, and we'll get a nice and thorough answer for you in a future issue.
---
Get Social With Us!
We're slowly but surely filling up Instagram and Twitter with Kitchen-Witch-themed posts and shares. Be sure to follow us on both platforms at @kitchenwitchjb!
---
Coming Up Next Week…
House spirits are a tricky bunch. Next week we'll learn about how to appease them, and discover one writer's personal journey getting to know her own.
See you then!